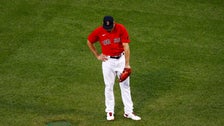 Boston Red Sox starter Nathan Eovaldi threw on the wrong side of history Tuesday in a 13-4 loss to the Houston Astros. (Watch the video below.)
Noting that the Astros "didn't miss," Eovaldi became the third major-league pitcher to surrender five home runs in the same inning, CBS Sports noted.
Houston's Yordan Alvarez, Kyle Tucker, Jeremy Pena, Michael Brantley and Yuli Gurriel took Eovaldi deep in the second inning as the boos intensified at Fenway Park.
"In the past, I feel every time I've faced the Astros, they came out swinging, and try to jump on the fastball," Eovaldi said, per ESPN. "I was able to locate it in the first, had a quick first inning. Tried to do the same thing the second inning, and they didn't miss."
Here's the home run hit parade: