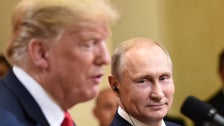 In February, Trump dismissed sanctions against Russia and instead looked at the attack on Ukraine as a great real estate deal.
"He's taken over a country for $2 worth of sanctions," Trump said last month, according to The New York Times. "Taking over a country — really a vast, vast location, a great piece of land with a lot of people — and just walking right in."
Now, Putin is facing a tougher than expected battle in Ukraine as well as crippling sanctions that have essentially crushed the Russian economy, not to mention a war crimes investigation for his attacks on civilian targets.
And Trump is trying to change his tune.
A supercut video from MSNBC's "Mehdi Hasan Show" contrasted what Trump has said lately to what he's said about Putin over the past few years: