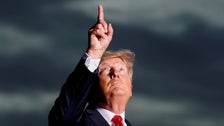 Former President Donald Trump clearly hasn't been studying up on climate change since his stint in the Oval Office. The observation he offered in a Fox Business interview Monday is that "you have a thing called weather."
Trump pushed his "weather" theory when host Stuart Varney asked him if thought "human activity" — such as the burning of fossil fuels — is responsible for climate change.
"In my opinion, you have a thing called weather," Trump responded. "And you go up and you go down."
He added: "If you look into the 1920s, they were talking about global freezing. OK? In other words, the globe was going to freeze. And then they go global warming, and then they couldn't use that because the temperatures were actually quite cool, and it's many different things … the climate's always been changing."
On other issues, Trump insisted in the Fox Business interview that this year's midterm elections and the 2024 elections should focus on his lies that the 2020 presidential vote was rigged against him, because that would be "good for me."
Check out Trump's climate change observations in the video clip up top.