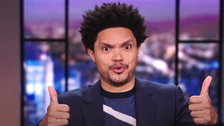 Trevor Noah doesn't put anything past Russia ― and that includes putting diabolical spin on Monday's anti-war protest by a news editor during a state-run newscast. (Watch the video below.)
"The Daily Show" host ran a highlight of the demonstration, in which the woman held up a sign that read "NO WAR" in English. In Russian below, the poster read: "Stop the war. Don't believe the propaganda. They are lying to you."
Noah called the move "one of the bravest things I've ever seen" but figured Russia will find a way to distort the message as its unprovoked invasion of Ukraine continues.
"Knowing Russia's propaganda machine, it's probably gonna find a way to twist this whole thing," Noah said. "They'll be like, 'You saw the sign, "No War." There's no war! Everything is normal. All good!'" Noah punctuated the spin with a goofy thumbs-up.
The demonstrator, identified as Marina Ovsyannikova, was reportedly arrested.