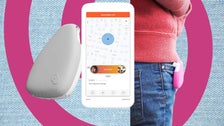 The world can be a terrifying place. And for those of us who are already inclined toward anxiety, it's easy to envision nightmare scenarios of at-risk loved ones getting lost or a runaway pet or child caught in a risky circumstance. Whether the danger is real or perceived, some caregivers, parents and guardians are using digital safety trackers to keep up with the location of their children and avoid potential peril, all while getting some major peace of mind in the process.
These trackers come in the form of small plastic implements or tiles that can be worn on the body or kept inside a pocket, and usually have embedded GPS technology that provides real-time location information to an app on your phone. Devices like the Jiobit have been gaining a lot of traction on the internet, thanks to the maker's claim that it's "the smallest and number one kid tracker" and can also be useful for pets, luggage or at-risk individuals. This wearable and waterproof device pairs with an app to keep track of the wearer's location in real time, even when there is no Wi-Fi or Bluetooth available, while also offering a number of different safety features such as first responder emergency services, location sharing and custom geo-fencing.
Many digital trackers like the Jiobit use a combination of connection methods, such as Bluetooth, Wi-Fi and cellular data towers, to provide minute-by-minute tracking. Most of these devices, the Jiobit included, are operated via app and require a subscription plan to operate. (We've included a few watch-style options that even allow for basic communication in the form of calling and messaging.)
Ahead, you can find out what actual users had to say about the Jiobit, plus some information on other digital tracking options on the market.
HuffPost may receive a share from purchases made via links on this page. Every item is independently selected by the HuffPost Shopping team. Prices and availability are subject to change.