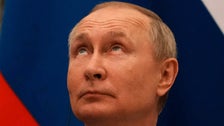 British screen icon Stephen Fry says there may be only one way to stop Russian President Vladimir Putin. And it's not necessarily what many people want.
In a new video for Pindex, Fry explained why Russia couldn't win a conventional war, especially if Western powers stepped in. The danger now is that Putin will turn to "unconventional" means.
While direct talks between Russia and Ukraine have gone nowhere, Fry said there may be another option.
"A study of hundreds of conflicts found that mediation increased the chances of resolution," he said. "And with deaths mounting on both sides, talks may only become more difficult."
Watch the full video below: