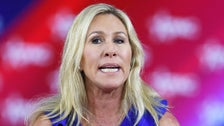 On Wednesday, the extremist Georgia Republican caused much mirth on Twitter when she wrote "commander and chief" instead of "commander in chief" while clashing with conservative commentator Bill Kristol.
She also wrote "your" instead of "you're."
Greene's personal account was nixed from Twitter in January for repeated violations of the platform's COVID misinformation policy. She continues to post on her congressional account, though.
Critics predictably pounced on her latest snafu: