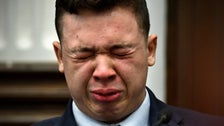 Kyle Rittenhouse thought it was hilarious to use a meme of him crying at his homicide trial last year, ostensibly over the people he'd killed at a racial justice protest, to illustrate his slam Friday against President Joe Biden over rising gas prices.
Rittenhouse was acquitted last year in the shooting deaths of two men and the wounding of a third at an Aug. 25, 2020, protest in Kenosha, Wisconsin, against police violence after a local Black man was left paralyzed in a police shooting. The jury decided Rittenhouse, who was 17 at the time, was acting in self-defense, even though the men he shot were unarmed.
Rittenhouse referred to James' dig in the crying meme Friday. "No, it's not Lemon Heads," he joked in the tweet featuring his testimony tears, this time holding a gas pump nozzle. "It's the burning hole in my pocket thanks to a Joe Biden presidency."
He added two laughing-with-tears emojis.
And the idiom about money "burning a hole in my pocket" went right over Rittenhouse's head. It refers to someone who can't wait to spend money on hand.