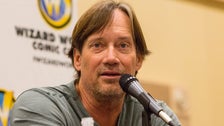 Former "Hercules" star Kevin Sorbo confused the heck out of people on Twitter on Friday with his latest questionable post.
"Remember when we treated the flu with tea, soup, and saltines instead of communism," wrote the conservative '90s-era actor, more known in recent years for his equally awful hot takes on COVID-19 vaccines and parroting of right-wing conspiracy theories.
"OK Jercules," one critic fired back as Sorbo's name trended nationwide.