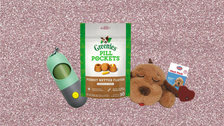 Promising review:
"I bought this around 6-months ago for my 10-lb, 2-year-old Chihuahua mix. It's become
his favorite and most cherished item
! We still have all three little squirrels, but my dog likes to nibble on their little strands of hair, and rather than fish the squirrels out of the stump,
he loves to just carry the empty stump with him everywhere and he runs to it every time he comes back from a walk or finishes eating
. He also likes to carry it out with him when he goes out to sunbathe. He and I have to tug it daily! While he is a little guy, he tugs and shakes it vigorously every day and has nibbled on parts of it over time and it is still in fairly good shape.
We washed it in the washing machine recently and it didn't fall apart
! Whenever this does fall apart, in time, I'll definitely just replace it.
This item is as cute and fun as it looks
and I think any dog that likes toys will be excited about it as soon as you open it! :)" —
Bailey O.
Get it from Amazon for $12.99+ (available in four sizes and 12 styles).