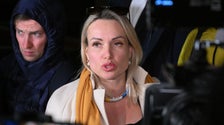 Marina Ovsyannikova, the journalist who protested the invasion of Ukraine on a Russian state TV broadcast, stressed on Sunday that many Russian civilians are against President Vladimir Putin's relentless war.
"You know, first of all, I want to say to everyone: The Russian people are really against the war," she told host George Stephanopoulos on ABC's "This Week." "It's Putin's war, not Russian people's war."
"This protest, you know, was a spontaneous decision for me, to go out live on air. But the dissatisfaction with the current situation has been accumulating for many years," she said through a live translator. "Because the propaganda on our state channels was becoming more and more distorted. And the pressure that has been applied in the Russian politics could not leave us indifferent."
The Kremlin has always attempted to stifle the free flow of information in Russia, but intensified its control over news and free speech after invading Ukraine. The government imposed a law that would punish anyone spreading what it considered "false" information about the invasion with up to 15 years in prison.
Ovsyannikova said Sunday that she initially wanted to participate in anti-war protests at Manezhnaya Square in Moscow. But after seeing security carrying out the new law by imprisoning protesters, she decided participating in collective demonstrations "was going to be a rather useless action on my part."
"I decided that maybe I could do something else, something more meaningful with more impact, where I could attract more attention to this and I could show to the rest of the world that Russians are against the war," she said. "And I could show to the Russian people that this is just propaganda, expose this propaganda for what it is and maybe stimulate some people to speak up against the war. And I was hoping that my performance, in a way, would help people change their mind."
Ovsyannikova said she refused Macron's offer to take asylum in France "because I am a patriot."
"I want to live in Russia. My children want to live in Russia. … And now I believe in the history of my country," she said. "The times are very dark and very difficult, and every person who has a civil position who wants to make that civil position known must speak up. It's very important."
Ovsyannikova's demonstration was partly meant to convey to the world that not all Russian people believe in Putin's actions, and that many civilians in Russia are against the war.
"The severe sanctions that the West is imposing on all of the people is probably a correct decision, but you must understand that not just the oligarchs and Putin's closest circle are suffering from these sanctions. Ordinary people, ordinary Russian citizens who are against the war are also being affected," she added. "So I just wanted to show the world that it's not just black and white in Russia. And I wanted to show our Russian people that they need to think critically and analyze the information that is being presented to them critically."