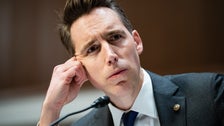 Sen. Josh Hawley (R-Mo.) loves getting attention for his Capitol riot salute.
Hawley's campaign announced Friday that it would continue to sell a mug emblazoned with his infamous pre-riot fist pump, even after the copyright holder of the original image sent a cease-and-desist letter.
"The image used on the mug is a protected fair use and the Hawley Campaign's speech is further protected by the First Amendment," Hawley campaign counsel Jessica Furst Johnson said in a public response to Politico.
Politico said it owns the rights to the photo, which was taken by E&E photographer Francis Chung before a mob of Donald Trump supporters laid siege to the Capitol for hours (Politico owns E&E). The photo depicts Hawley saluting the crowd before he entered the building to make a dubious objection to the 2020 presidential election.
"We did not authorize its use by the Hawley campaign for the purpose of political fundraising, which the campaign has been put on notice of by legal counsel," Politico spokesman Brad Dayspring said.
Hawley, who never apologized for helping Trump incite the attack, clearly loves the fight. Putting the picture on campaign merchandise represents a clear provocation — his boldest assertion yet that not only had he done nothing wrong, his role in the events of Jan. 6, 2021, was actually good.
And instead of responding to Politico in a private letter, Hawley's campaign put its refusal in a press release, claiming that word of Politico's demand had been "leaked" to HuffPost for self-serving reasons. (Politico never shared its original letter and only told HuffPost about it in response to a question about whether Hawley had obtained the rights to the photo.)
Hawley denied to HuffPost last month that he sells a "pro-riot mug," even though the item obviously puts a favorable spin on one of the best-known images from the Capitol attack. His campaign has since put the image on T-shirts and beer koozies.
As for Politico's legal argument, Hawley's campaign claimed that it's not stealing the original image because its version of the Chung photo is so heavily stylized ― in black and white, with high contrast and no background.
"Neither the Campaign nor Senator Hawley will engage in self-censorship to placate the legally baseless demands of your client," Johnson said.