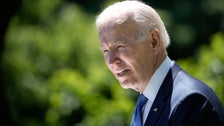 WASHINGTON ― President Joe Biden on Monday reestablished a World War II-era program to support foreign nations, enabling the U.S. to more quickly arm Ukraine as it fights against a Russian invasion.
The president signed a bill approved by most lawmakers from both parties that updates the Lend-Lease Act of 1941, designed to help European countries resist Adolf Hitler. The legislation gives the president greater authority to loan or contract out American military equipment, with the receiving nation covering the cost later ― though Biden aides have been cautious about describing how aggressively he will do so.
The law went into effect Monday, just as Russia celebrated its own role in World War II and the defeat of Hitler.
The only members of Congress to oppose the measure were 10 Republicans in the House of Representatives.
The Biden administration is also seeking $33 billion in new funding to support Ukraine, covering military assistance, humanitarian aid, defense programs for neighboring states and other initiatives.
This is a developing story. Please check back for updates.