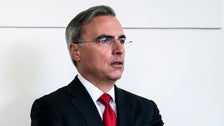 WASHINGTON ― The Trump White House's top lawyer, Pat Cipollone, is set to appear before the House Jan. 6 committee on Friday, which would make him the highest-ranking official from the West Wing to provide testimony to the panel.
Cipollone did not immediately respond to a request for comment on multiple media reports that he has agreed to testify behind closed doors after having previously spoken to the committee informally.
Cipollone, according to former Trump administration officials, was among the most forceful voices telling Trump on Jan. 6 that his actions that day could expose him to criminal prosecution.
This is a developing story. Please check back for updates.