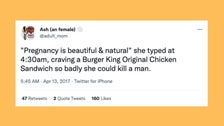 Pregnancy involves a whole host of symptoms that can range from serious to borderline comical.
Toward the latter end of the spectrum is pregnancy cravings. Many expectant parents (and their partners) turn to Twitter to share the random foods and bizarre combinations they've found themselves suddenly wanting to devour.
We've rounded up some of the funniest and most relatable examples. Keep scrolling for 25 tweets about pregnancy cravings.