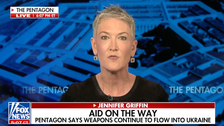 Fox News' national security correspondent Jennifer Griffin on Tuesday delivered a poignant tribute to colleagues who were wounded and killed while covering the war in Ukraine this week.
"The loss and pain we feel is enormous. But if ever, there were a time that the world needed journalists, reporters risking their lives to tell these stories, to tell the truth, it's now," Griffin said:
Two journalists working with Fox News were killed and another was injured just outside Kyiv on Monday while reporting on the Russian invasion. According to the network, cameraman Pierre Zakrzewski and freelancer Oleksandra Kuvshynova died in Horenka when their vehicle was struck by incoming fire. Fox News correspondent Benjamin Hall was wounded and hospitalized in the same incident.
Griffin also honored her colleagues on social media in a lengthy thread that included images and details of their life and work:
In nearly three weeks of war, several other members of the press have been injured or slain. Russian forces killed award-winning American journalist and filmmaker Brent Renaud outside Kyiv on Sunday. On Feb. 26, two Danish journalists on assignment for The Daily Beast were shot and hospitalized.
Griffin, who joined Fox News in 1996 and spent three years as a reporter in Moscow, has made headlines in recent weeks for her well-informed contradictions of the falsehoods promoted by her colleagues.
"I'm here to fact-check facts because I report on facts," Griffin said earlier this month. "And my job is to try and figure out the truth as best as I know it. I share those facts internally so that our network can be more accurate. That's what I've always done."