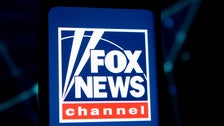 A cameraman for Fox News was killed in Ukraine while reporting on the war against Russia, the network said Tuesday.
Pierre Zakrzewski was killed in Horenka, a city outside of the country's capital, Kyiv. Zakrzewski was killed in the same attack that wounded Fox News Ukraine correspondent Benjamin Hall.
"Pierre was a war zone photographer who covered nearly every international story for FOX News from Iraq to Afghanistan to Syria during his long tenure with us," the network said in a statement. "His passion and talent as a journalist were unmatched."
This is a developing story. Check back for updates.