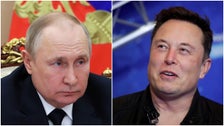 In a Twitter post, the Tesla CEO challenged the Russian president to "single combat" with Ukraine as the prize.
Musk sent another tweet a short time later to Putin's official English language Twitter page asking, "Do you agree to this fight?"
As of Monday afternoon, Putin hasn't responded to Musk's challenge.
The idea of a one-to-one fight might sound appealing to fans of bad action films, but Musk may not be the best guy to pin the hopes of a free Ukraine on.
Although the 6-foot Musk towers over the 5-foot, 7-inch Putin, the Tesla CEO told podcaster Joe Rogan in 2020 that, while he lifts weights and uses a treadmill, he prefers not to exercise. More important, he's only dabbled in fighting sports like taekwondo, karate, judo and Brazilian jiujitsu. Meanwhile, a 2014 profile of Putin claimed that the Russian president swims for two hours a day and lifts weights in the gym. He also has military training in hand-to-hand combat.
Still, many Twitter users had thoughts about whether putting a serious geopolitical crisis in the hands of a billionaire Twitter troll was the right plan of action.
The tweet definitely fits Musk's pattern of saying outrageous things on social media for attention.