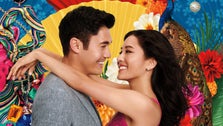 It's been four years since Jon. M Chu's groundbreaking film became the most successful romantic comedy in nearly a decade, changing the course of Asian representation in Hollywood. Based on Kevin Kwan's bestselling novel of the same name, the 2018 feature starred Henry Golding as the scion of an ultra-wealthy family who brings his Chinese American fianceé (Constance Wu) home to Singapore, alongside a predominantly Asian cast that also included Michelle Yeoh, Gemma Chan and Awkwafina.
Now the follow-up to the film is officially underway with a new screenwriter.
Warner Bros. has tapped Chinese Australian writer Amy Wang to pen the sequel, which Chu will helm once again, according to a Deadline report published on Monday.
Wang, who is currently attached to two upcoming Netflix projects and won a 2018 Cannes Lion award for her short film "Unnatural," will take the reins from the first film's screenwriters, Peter Chiarelli and Adele Lim.
Lim, a Malaysian-born writer who'd primarily worked in television, said in September 2019 that her white co-writer, Chiarelli, was being paid nearly 10 times her salary for working on the two planned "Crazy Rich Asians" sequels.
At the time, Lim received a starting offer of $110,000-plus from Warner Bros., while Chiarelli's offer ranged from $800,000 to $1 million due to his prior credits on "The Proposal" and "Now You See Me 2," according to The Hollywood Reporter.
Lim quit the project over the substantial pay disparity, which the studio claimed fell within industry-standard ranges based on the writers' experience levels. But Chu and cast members Chan and Awkwafina released statements supporting Lim.
"I agree with Adele that parity for women and people of color is crucial to the continued enlightenment of our industry and we still have a long way to go," Chu wrote at the time, adding that he hoped Lim would return to the film.
The director explained that he fought for a better deal on Lim's behalf, but that "a lot of time had passed and she declined the offer." Lim has since served as the co-screenwriter for Disney's recent animated feature "Raya and the Last Dragon."
Following the pay disparity dispute, the second installment remained in limbo. Many "Crazy Rich Asians" stars, including Golding, Chan and Awkwafina, who've gone on to appear in massive blockbuster projects, have spoken about the sequel's extended development in the years since.
"I always bug [director Jon M. Chu] about it, and he tells him the same thing every time: They're trying to figure out the writing," Golding revealed to E! News earlier this month. "I know they're working on it, but hopefully sooner than later."
The next film will presumably take inspiration from author Kwan's follow-up novel "China Rich Girlfriend," which centers on Wu's character as she discovers that her long-lost father is connected to China's wealthy elite. The Deadline report notes that a third film is still moving ahead as planned, with all plot and further details under wraps.