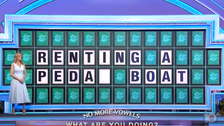 "Wheel of Fortune" yielded another monstrously botched puzzle-solve on Wednesday's episode. (Watch the clip below.)
All three contestants ― Seann, Michele and Crystal ― contributed embarrassing blunders. So at least they were in the same boat ― the pedal boat. "Pedal" was the final word that stumped them.
For the phrase "What are you doing?" the players had filled out the word puzzle to read: "Renting A Peda* Boat," leaving one measly letter blank.
Then the players went overboard with mistakes.
Seann eventually solved the puzzle.
"Wheel" has invited controversy and ridicule of late. Earlier this month, a player incorrectly guessed "A Feather In Your Nap" for a "A Feather In Your Cap."
Last week, host Pat Sajak, after urging more civility from "Wheel" watchers, mocked a contestant for telling a story about losing part of his toe.