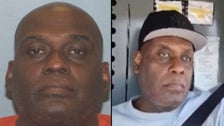 A man suspected of carrying out Tuesday morning's mass shooting on a New York City subway train has been taken into custody, according to local reports.
Frank Robert James, 62, was arrested Wednesday afternoon in Manhattan, ABC News and CNN reported, citing law enforcement sources.
The shooter, described as being dressed in a construction vest and wearing a gas mask, set off smoke grenades before opening fire on a train car and on the platform in Brooklyn during the morning rush. Ten people were wounded by gunfire and another 13 suffered injuries related to smoke inhalation, falls or panic, authorities said.
The gunman, meanwhile, managed to flee the scene amid the chaos.
James had initially been named a person of interest in the shooting after he was identified as the renter of a U-Haul van that was possibly connected to the violence, authorities said.
A key to the van was found inside of the subway station with other items believed to have belonged to the shooter, including a credit card with James' name on it. Authorities said James rented the vehicle in Philadelphia. It was later located about five blocks from the subway station.
This is a developing story. Check back for updates.