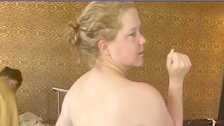 Amy Schumer had a wardrobe fitting before she co-hosts the Oscars and appeared to have more fun without the clothes.
The comedian danced playfully with her back to the camera in a video she shared Tuesday on Instagram.
"Oscar and @lifeandbethhulu fitting. Can't stop dancing," she wrote. She also noted her "#badtattoo."
Schumer is leading the awards show with fellow comedians Wanda Sykes and Regina Hall. It will mark the first time since Jimmy Kimmel's stints in 2017 and 2018 that the ceremony will be hosted.
The "Life & Beth" star vowed to get into trouble and "burn all bridges" in an interview with Extra earlier this month. "I don't know who made the decision to let me personally be a host, but it's not a good one," she joked.
It's good to see Schumer isn't just talking the talk to stir things up at the awards. She's also dancing the dance.
The Oscars ceremony is scheduled to air live on March 27.