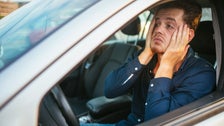 1. Your blood pressure spikes and your cardiovascular health takes a hit.
2. You get moodier and angrier when there are delays.
3. You become more of a social recluse.
4. You sleep less.
5. You grow more unsatisfied with your job.
6. It can increase your odds of divorce.
7. Your lungs may be more exposed to air pollution, depending on how you commute.