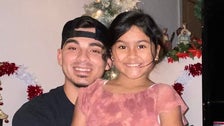 A fourth-grade student attempted to call 911 during the Texas mass shooting that claimed the lives of 19 children and two adults this week.
Ten-year-old Amerie Jo Garza, who attended Robb Elementary School in Uvalde, Texas, tried to call 911 on her cellphone before the 18-year-old gunman killed her.
Amerie's grandmother, 49-year-old Berlinda Arreola, told The Daily Beast that the 10-year-old had her cellphone when the gunman entered the classroom. Arreola, who also spoke to People, called her granddaughter a "hero."
"My [granddaughter] was shot and killed for trying to call 911, she died a hero trying to get help for her and her fellow classmates," Arreola told The Daily Beast.
Arreola also said the gunman had told the students, "You're going to die."
"And [Amerie] had her phone and she called 911," the grandmother explained. "And instead of grabbing it and breaking it or taking it from her, he shot her … She was sitting right next to her best friend. Her best friend was covered in her blood."
The massacre at Robb Elementary School was the second-deadliest school shooting in U.S. history.
U.S. Marshals told Amerie's father, Angel Garza, about his daughter's death, according to KABC-TV.
"Thank you everyone for the prayers and help trying to find my baby," Garza told KABC-TV. "She's been found. My little love is now flying high with the angels above. Please don't take a second for granted. Hug your family. Tell them you love them. I love you Amerie jo. Watch over your baby brother for me."
Amerie had just celebrated her birthday on May 10, Garza told the news station.
A Facebook page identified as Garza's page recently posted a link to a GoFundMe campaign to help with his daughter's funeral costs.
"For anyone asking, I'm sorry we have been trying to stay away from all media in a time like this," Garza said. "I love you guys so much for getting my babies name out there. She was my hero."
According to People, Amerie had a loving bond with her 3-year-old brother Zayne and always kissed him before leaving for school every morning.